-Project Samples-
Antivirus Software Translation
Project Brief:
Argos Multilingual is often commissioned to complete IT and software translations for tech companies around the world. One such company asked us to complete a translation of their antivirus and security systems that consisted of over 30,000 words of content that needed to be accurately adapted from Finnish into Norwegian so that our client could launch their application in new markets.
We assigned a specialized team to handle this project in an effort to meet the 10 day deadline. As the project consisted of GUI terms and help files and required software testing of localized strings that were then handed over to translators for reference, we ran a portion of these tasks through our localization department.
To assist in translation process, Argos used translation memory (TM) tools over multiple text batches, which resulted in almost 17% repetitions for the project, which in turn meant significant savings for our client. In addition, all translations benefited from more uniform and consistent adaptation while the translation process itself was expedited, helping us deliver an error-proof translation on time and to budget.
Background Information:
Client Industry: Software Development
Type of Product: Antivirus software
Type of Project: Translation, localization, review
Languages involved: Finnish, Norwegian
Amount of work: 30,000 words
Time Frame: 10 workdays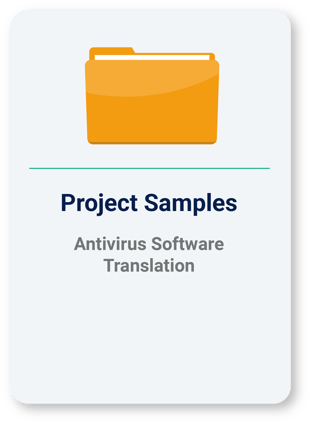 Subscribe to the Argos Newsletter
Stay in the know with all things translation with our ad-free newsletter. Every other week, no spam. We guarantee.