-Project Samples-
Appliance Manual Desktop Publishing and Translation
Project Brief:
We were recently involved in translating 7 instruction manuals for a manufacturer of professional kitchen appliances. The client required translation and desktop publishing (DTP) services for manuals covering two complete lines of premium appliances.
Argos was commissioned to translate the manuals into 6 languages and provide comprehensive desktop publishing over all content.
Due to the large scope of the project (almost 100,000 words and 62 hours of DTP work), we assigned a specialized team of translators, DTP specialists, and reviewers who handled all work on the project and managed to complete the first portion in 8 working days. The client initially contacted a competing translation agency and asked for a quote and a tentative timeline to complete the assignment, and were quoted a timeline of 11 to 12 weeks to complete only the first portion of the project!
Upon delivery, the client was extremely happy not only with the fast turnaround time, but also with the high quality of the translated content.
Background Information:
Client industry: Appliances
Type of product: Instruction manuals
Type of project: DTP, translation, and review
Languages involved: Dutch, Italian, Portuguese, German, Canadian French, North American Spanish
Amount of work: 100,000 words
Time frame: 4 weeks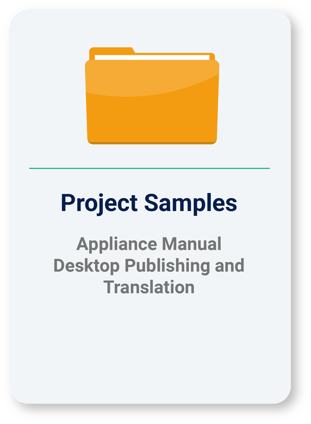 Subscribe to the Argos Newsletter
Stay in the know with all things translation with our ad-free newsletter. Every other week, no spam. We guarantee.