-Project Samples-
Automation Pump Translation and Desktop Publishing
Project Brief:
In an effort to enter a new market and open up fresh sales channels, an automation pump manufacturer needed to adapt their manuals to suit the languages of their international clients.
They contacted us to provide translation services and DTP services, as the project spanned 17 manuals and 3 languages and required the translation of content as well as the redesign of the pump manuals to suit different languages.
In order to quickly and accurately adapt the manuals, we allocated a team of 4 DTP specialists who managed to complete all work under a tight client-assigned deadline of 3 days. The DTP team needed to format multiple instructions and handle large batches of the project in Framemaker in order to maintain layout and design consistency.
In the end, the client was satisfied with the adapted manuals and with the fact that we could deliver them to tight deadlines.
Background Information:
Client industry: Manufacturing
Type of product: Pump instruction manuals
Type of project: Desktop publishing and quality assurance
Languages involved: French, German, Spanish
Amount of work: 32 hours
Time frame: 3 days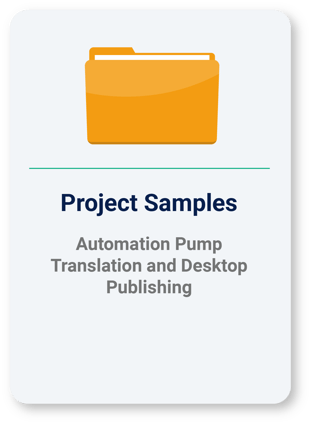 Subscribe to the Argos Newsletter
Stay in the know with all things translation with our ad-free newsletter. Every other week, no spam. We guarantee.