-Case Study-
Dealers Were Willing, Just Not Able to Translate. But They Found Argos Multilingual.
Kolberg-Pioneer, Inc. (KPI) is a worldwide leader in the design and manufacture of equipment used by the aggregate, construction, paving and recycling industries. KPI is a member of the Astec Industries Group. Its products include conveyors, crushers, washers and classifiers. Products are marketed under the KPI-JCI brand and are sold through a global dealer network.
That's where translation comes in. For every KPI product shipped around the world, the technical manual must be translated into the market-specific language of the destination country. Before Argos, overseas dealers typically provided the translations for the manuals.
Dealers Deal; Translators Translate
For Tim Bohn, Kolberg-Pioneer's Technical Publications and Risk Analyst Manager, placing the responsibility for translations on KPI's international dealers was problematic and frankly asking too much. Translations would either take too long, were never completed or arrived partially completed. And with any dealer-produced translation, KPI was not in control of the process.
The bottom line: "That was a poor reflection on our company," said Bohn.
To make his point, Bohn shared the story of an English- to-Russian translation of machinery decals. The translation project was plagued by communication difficulties. That's a roadblock in international business that needs to be avoided. KPI products are complex industrial machines and the company works hard to make sure hazard alerts are read and understood.
Dealers sell product; an invaluable asset for the company. But dealers aren't translators and shouldn't be expected to provide that service. When it comes to language translations, especially of a technical nature, it's best to leave it to the professionals.
Sharing Know-how Improves Processes
For Argos, it isn't enough to produce quality translations on time and on budget for Kolberg-Pioneer. It's also important to share better ways of preparing technical text for translation and bring the latest in technology solutions to KPI.
To illustrate, Tim Bohn's publications department recently migrated from PageMaker to using InDesign. Argos was proactive in sharing tips and templates.
One key difference has been a reduction in prep and formatting costs. Since KPI committed to upgrading its software, Argos has teamed up with them to build a template that works best for translation. The result is lower prep and formatting costs in KPI's translated documents.
,031 Discounts on Translations
The more KPI relies on Argos for language translation, the more the company saves on its translation costs. That's because Argos uses translation memory, which stores and recalls previously translated sentences that match. The resulting discounts have a big impact on overall costs.
"I'm looking at a bill right now, and I see we had a discount of ,031," said Bohn. "Here's another one. The bill was for ,977, and our translation discount was 83. That's a good chunk of that billing."
For KPI, discounts for translation and lower prep costs make the idea of relying on Argos for translation better and better.
Of course, you also can't discount the importance of being able to translate many different languages. KPI ships to Russia, Turkey, Brazil and many other countries. Fortunately, Argos translates some 50 different languages of the world.
For Tim Bohn, who's been with Kolberg-Pioneer for 24 years, this year is shaping up to be a nice one. Business is booming and Bohn's department is expanding to meet the requirement. Many of the past challenges are actually in the past, thanks to the partnering relationship enjoyed with Argos.
"A poor translation, or no translation, just reflects badly on the company," said Bohn. "That's why we now work with Argos to get our translations done."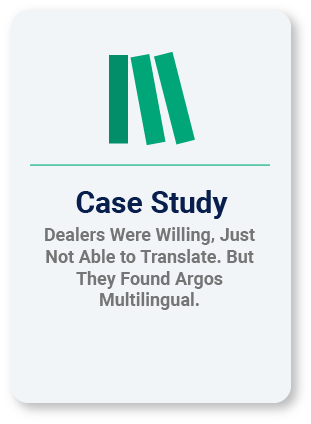 Subscribe to the Argos Newsletter
Stay in the know with all things translation with our ad-free newsletter. Every other week, no spam. We guarantee.