-Project Samples-
Digital Camera
DTP and Translation
Project Brief:
Argos Multilingual was commissioned by a manufacturer of consumer electronics (mainly photo and video cameras) to complete desktop publishing work and translation of their digital video recorder and digital camera documentation. The digital camera translation and DTP project involved adaptation of ca. 800 words of content into 7 languages: French, German, Spanish, Italian, Portuguese, Dutch and Russian in under 4 working days. Due to the sensitivity of the electronics market which requires a fast reaction to demand and quick deliveries, our client chose Argos Multilingual to complete this urgent translation project.
The project involved various dtp services including typesetting and design work, the client provided Argos with an English version of the products' deco-boxes. Argos was then asked to extract texts, translate them into 7 languages and typeset all 8 languages into a box design (redesigning it at the same time in order to fit all 8 languages while maintaining readability of the product's description). All this work required use of specific DTP resources to complete the project. DTP needed almost 2,5h of work per box with 7 boxes in total, from which all texts were then to be extracted. It was for this reason that DTP accounted for 71% of project's value.
However, because the content was of a highly repetitive nature, and this was one of many projects handled by Argos for this client, Argos Multilingual was able to employ Translation Memory tools over the course of this assignment. As such, Translation Memory savings amounted to almost 30% of the whole project value.
Also, while the client was based in New Jersey with a 6 hour time difference from Argos' production office, Argos adjusted its workflow to utilize this time difference and shorten delivery times while improving work efficiency.
In the end, Argos managed to deliver all work on time, meeting our client's short deadline and their quality expectations. The client was also extremely happy to find in Argos a reliable and flexible translation partner. The client, being a US company with previously limited translation needs, has recently began to expand into Europe. As such, they currently require regular translation services into 7 languages and occasionally require Greek as well. With the electronics market constantly introducing new updates and high-tech developments, our clients need to count on a translation partner that is both flexible and reliable. That is why they come to Argos Multilingual.
Background Information:
Client Industry: Electronics Manufacturer
Type of Product: Digital Video Recorder, Digital Camera
Type of Project: Translation and DTP (typesetting and design)
Languages involved: French, German, Spanish, Italian, Portuguese, Dutch and Russian.
Amount of work: 800 words
Time Frame: 4 days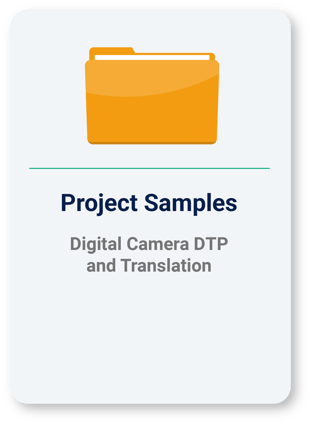 Subscribe to the Argos Newsletter
Stay in the know with all things translation with our ad-free newsletter. Every other week, no spam. We guarantee.