-Project Samples-
DTP and Document Translation of Medical Device
Project Brief:
Argos Multilingual was approached by the world's leading healthcare and medical device manufacturer with a medical document translations project. The project consisted of over 440K words of content needed to be translated into 11 languages, including Polish, Czech, Spanish, Italian, Russian, French, German, Portuguese, Greek, Slovene and Turkish, along with additional Desktop Publishing work over various images contained within these documents.
In order to cost-effectively, efficiently and accurately tackle a project of such capacity, Argos allocated a team of translators, DTP specialists, reviewers and localization engineers to work on this assignment.
The initial phase of the project required adaptation of the source files into a format suitable for use with Trados and Translation Memory tools, which helped enhance translation accuracy while simultaneously reducing translation costs. Then, a further 100K words needed translation by a dedicated team of translators and reviewers ensuring that all work was consistent with the source and target languages. Finally, once the language of all the materials was adapted, our DTP department started adjusting all images and design elements to fit the translated content.
All in all, the project required roughly 330 hours of DTP work alone, and took about 12 weeks to complete. Even with a project of such magnitude, thanks to Argos' flexible processes and specialized teams, Argos managed to meet the client's required quality standards and complete all assigned work ahead of schedule.
Background Information:
1. Client's Industry: Healthcare and Medical Devices Manufacture
2. Type of Product: Documentation and Manuals
3. Type of Project: Translation, DTP and Localization Engineering
4. Languages Involved:
Polish
Czech
Spanish
Slovene
Greek
Turkish
Italian
Russian
French
German
Portuguese
5. Amount of Work: over 440,000 words
6. Time Frame: 12 weeks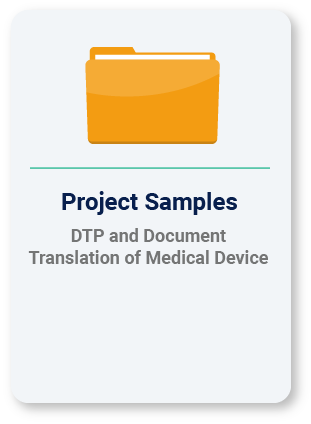 Subscribe to the Argos Newsletter
Stay in the know with all things translation with our ad-free newsletter. Every other week, no spam. We guarantee.