-Project Samples-
DTP of Marketing Materials for Mobile Phones
Project Brief:
Argos Multilingual is continually counted upon by various media and communication companies to deliver high quality and accurate translation services at tight deadlines. Recently, Argos Multilingual was contacted to complete a DTP project that required the adaptation of marketing materials for a mobile communications company.
The project commissioned to Argos included translation and DTP adaptation of marketing brochures for a new line of mobile phones being brought to the market by our client. The phone's advertising campaign involved a launch in multiple markets. For that reason all brochures needed to be adapted into German, Estonian, French, Hungarian, Polish, Italian, Russian and Croatian.
To that end, Argos assigned a team from its DTP department to work solely on this project. The assignment consisted of over 400 pages of content that required almost 60 hours of work, and all had to be finalized prior to our client's 2 week deadline. A project manager who overlooked all of the work, connected all portions of the project from translation to DTP, leading the team to complete the assignment ahead of schedule.
Upon delivery, our client was very pleased not only with the short time frame in which the project was completed, but also with the high quality end result that left the client with more time to focus on executing their advertising campaign.
Background Information:
1. Client's Industry: Mobile Communication
2. Type of Product: Mobile Phone Marketing Materials and Brochures
3. Type of Project: DTP and Translation
4. Languages Involved:
German
Estonian
French
Italian
Croatian
Hungarian
Polish
Russian
5. Amount of Work: 416 pages
6. Time Frame: 2 weeks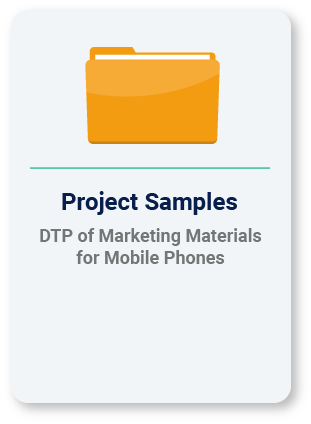 Subscribe to the Argos Newsletter
Stay in the know with all things translation with our ad-free newsletter. Every other week, no spam. We guarantee.