-Project Samples-
ERP Translation Project
Project Brief:
Argos Multilingual regularly completes ERP translation projects for various IT companies around the globe. One large software developer commissioned Argos to complete an ERP software translation, review and Quality Assurance from German into Russian. The project entailed over 240,000 words requiring almost 2 months of work.
Argos attached a team of skilled and experienced translators and localization engineers to work on the ERP translation project. Our ERP translation team consisted of translators, reviewers and QA specialists who were responsible for adapting all portions of the ERP translation content. Simultaneously, Argos' Localization department handled file preparation and later conversion of translated materials back into source format (xls) as requested by our client.
Having completed all ERP translation and software localization work on time, Argos delivered the project back to our client meeting the deadline and quality requirements.
Background Information:
Client's Industry: ERP software development
Type of Product: ERP application
Type of Project: Localization, Translation and review
Languages involved: German and Russian
Amount of work: 240 000 words
Time Frame: 2 months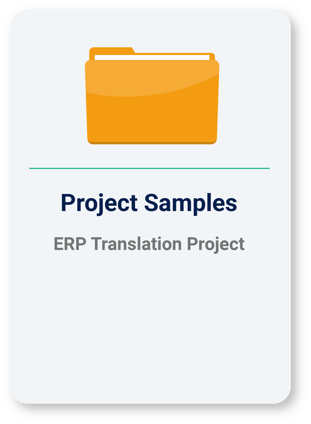 Subscribe to the Argos Newsletter
Stay in the know with all things translation with our ad-free newsletter. Every other week, no spam. We guarantee.