-Project Samples-
Medical Device DTP
and Translation
Project Brief:
Argos Multilingual regularly completes DTP projects for various medical device manufacturers. Manufacturers or medical devices tend to require DTP services whenever a new product line emerges for international sales.
Along with these new devices, new instructions manuals describing proper handling procedures are prepared that require adaptation of multiple graphs, tables and images into several languages. Recently, Argos provided DTP services to a medical device manufacturer who needed to adapt their manuals and datasheets into 20 languages.
This DTP project involved adaptation of source content into: Polish, Czech, Slovakian, Hungarian, Estonian, Lithuanian, Turkish, Russian, Dutch, French, Italian, German, Danish, Spanish, Portuguese, Swedish, Finnish, Greek, Korean and Chinese. Argos Multilingual dedicated a team of 5 DTP specialists (including DTP QA and proofreaders) along with a supporting Project Manager who coordinated all work in order to complete the assignment by the required deadline.
Consequently, it took Argos' team roughly 150 hours to complete all DTP, DTP QA and proofreading work for the project, meeting the assigned deadline and leaving our client highly satisfied with the final product.
Background Information:
1. Client's Industry: Medical Device Manufacture
2. Type of Product: Manual and Datasheet adaptation
3. Type of Project: DTP and review
4. Languages involved:
Polish
Czech
Slovakian
Hungarian
Estonian
Lithuanian
Turkish
Portuguese
Swedish
Finnish
Russian
Dutch
French
Italian
German
Danish
Spanish
Greek
Korean
Chinese
5. Amount of work: over 10 000 pages
6. Time frame: 150 hours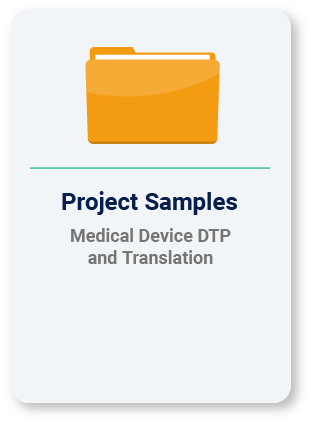 Subscribe to the Argos Newsletter
Stay in the know with all things translation with our ad-free newsletter. Every other week, no spam. We guarantee.