-Project Samples-
Patient Monitoring Systems Translation
Project Brief:
Argos Multilingual completed a medical device manual translation project for a large Patient Monitoring Systems & Connectivity instruments manufacturer.
The medical device translation project involved a Chinese translation of over 10,400 words of content, along with review and Quality Assurance steps. On top of the medical translation work, Argos also performed DTP and DTP QA steps to accurately adapt the content and fit it into appropriate user manuals. Overall, all of the medical translation work revolved around Chinese translations and Korean translations of highly technical patient monitoring systems translation content.
Due to the large scope of the medical translation project, Argos assigned an experienced team of medical translators experienced in adapting patient monitoring content along with reviewers Quality Assurance and DTP specialists. This Argos team worked together to correctly adapt all of the project's medical device translation content in order to meet our client's strict 3 week deadline.
In order to expedite this medical translation project and ensure translation consistency, Argos also utilized our Localization department that prepared all files for translation and later on for DTP rework. In the end, Argos completed the assignment not only on time, but to our client's utmost satisfaction.
Background Information:
Client Industry: Medical Devices
Type of Product: Medical Device Manual (Patient Monitoring)
Type of Project: translation, review, QA, Localization and DTP
Languages involved: Chinese Translations, Korean Translation and English Translations
Amount of work: 10,000+ words
Time frame: 3 weeks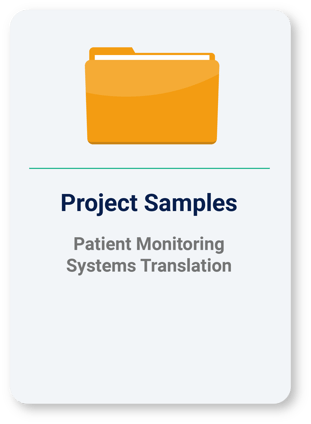 Subscribe to the Argos Newsletter
Stay in the know with all things translation with our ad-free newsletter. Every other week, no spam. We guarantee.