-Project Samples-
Power Generation Equipment Translation
Project Brief:
Recently, Argos Multilingual completed a technical translation project for a power generation equipment manufacturer that consisted of the translation of manuals and technical documentation for power systems, gasoline engines, and custom power supplies. Over 50,000 words of content needed to be adapted into Greek, Russian, Czech, Slovak and Polish.
All of the materials for translation were delivered to Argos in batches throughout a 6-month period. In order to take on this assignment and make sure that all work was handled properly, we assigned a team of translators experienced in technical translations. High quality was ensured by having skilled reviewers go over all translated materials, smoothing out any terminology inconsistencies. Additionally, the project was translated directly in the client's TMS (DocZone, a system based on an XTM CAT tool platform).
Our client was extremely satisfied with the quality of translations received and continues to turn to us for their other translation needs.
Background Information:
Client Industry: Power generation Equipment
Type of Product: Manuals and instruction booklets
Type of Project: Translation and review
Languages involved: Russian, Czech, Slovak, Polish, Greek
Amount of work: 50,000 words
Time frame: 6 months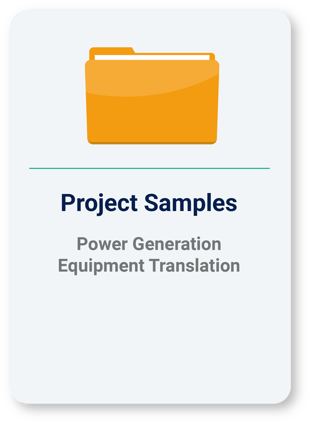 Subscribe to the Argos Newsletter
Stay in the know with all things translation with our ad-free newsletter. Every other week, no spam. We guarantee.