-Project Samples-
Sync Software Translation
Project Brief:
Argos Multilingual was called on for a translation, proofreading, and source review of a sync application by a software development company whose products help sync data between multiple media devices and applications. The project involved 18 languages with over 2,500 words of content per language, and all work was scheduled for completion on a tight deadline of only 5 working days.
In an effort to process all of the work on time, we divided the project into multiple stages and assigned 18 teams of translators and reviewers, with an additional 3 quality assurance specialists to go over all completed code translations and ensure consistency.
In order to clarify all possible problematic points, a source review was performed at the start of the project before the translation itself. This was followed by localization engineering that consisted of file preparation, a final conversion, and Translation memory maintenance. With such a large amount of languages and linguists involved, proper preparation was crucial to ensuring consistency.
In the end, we completed the project on time, adhering to the client's requirements and fulfilling all quality expectations. When presented with the end result, our client said "First of all, I wanted to thank you guys for the quick turnaround on getting these files translated. It is much appreciated. As a follow up, we have a new project that needs to be translated – about 8,000 words into 18 languages".
Background Information:
Client Industry: Software development
Type of Product: Software application
Type of Project: Translation, source review and quality assurance
Languages involved: French, Italian, German, Spanish, Dutch, Polish, Russian, Swedish, Norwegian, Danish, Finnish, Brazilian Portuguese, Portuguese, Czech, Japanese, Korean
Amount of work: 2,500 words per language
Time Frame: 5 days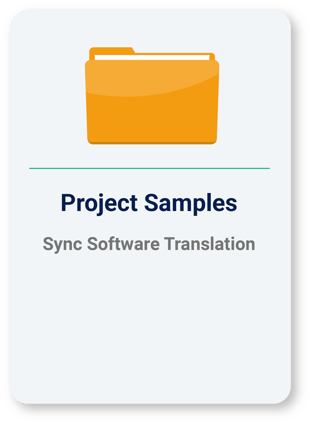 Subscribe to the Argos Newsletter
Stay in the know with all things translation with our ad-free newsletter. Every other week, no spam. We guarantee.