-Case Study-
To Tell Their Story in Eleven Foreign Languages, Valmont Depends on Argos
Water. It's been called the world's most precious natural resource. Which is why Valmont's Valley brand of water-saving irrigation equipment is invaluable to agribusiness and in emerging countries which are heavily dependent on agriculture. The company's center pivot and linear irrigation machines are used around the world to deliver water to growing crops, in places where crops could not be grown before. Today, Valmont is the largest manufacturer of mechanized irrigation equipment.
Since 2004, Argos has supplied translation for operating manuals, equipment decals, marketing materials, Valmont's website and the software interface for their control panels. Those translations have helped the company meet EU standards, as well as other country-specific standards. The list of languages translated numbers eleven today: Spanish, German, French, Italian, Portuguese, Russian, Romanian, Serbian, Hungarian, Arabic and Chinese.
Why Translate with Argos?
Argos has a long track record translating manuals for manufactured equipment. That made Valmont a natural fit. Translation aside, though, it's the working relationship that Valmont values the most.
"Argos is very much involved in the translation process," said Michelle Stolte, Valmont's International Marketing Materials Manager. She cites examples where Arogs suggests processes that help keep translation costs in line, "they come to me and say, 'do it this way and you'll save money.'" Helping customers save money while providing quality is an important aspect of Argos' customer focus.
Several of Valmont's translation projects have necessitated matching the previously-localized software with instructions in operating manuals. This meant asking for clarifications –"they're very good at asking questions," comments Ms. Stolte. By marrying the operator's manual with the messages on the computer screen, the result is more efficient operation of the irrigation equipment and increased customer satisfaction for Valmont Industries Inc.
The French Connection
One standout example of customer service is a French translation of a lengthy operator's manual that was started by a French dealer, but never completed. The writing team at Valmont was overwhelmed with the task of completing the translation, verifying the content and putting it into the company's established format. With a deadline looming, Argos was brought in.
Said Stolte, "I sent the file to Argos. I'm glad I did. It was a mess." Argos worked with the dealer-supplied translation, proofread and corrected errors and filled in gaps, and provided Valmont with a thoroughly-proofed document ready for print. The job was completed two days before the deadline.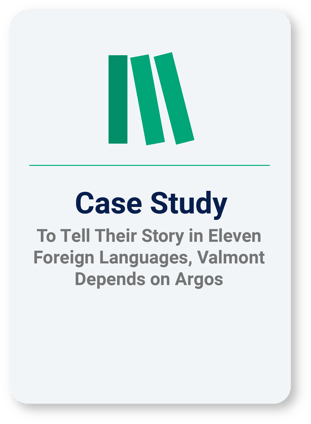 Subscribe to the Argos Newsletter
Stay in the know with all things translation with our ad-free newsletter. Every other week, no spam. We guarantee.