-Case Study-
Translating Financial Reports
Our client, a leading European financial service group of international standing was seeking a reliable and consistent translation company to support the group's financial translations. These projects included financial document translation as well as other financial translations of various reports which were updated on a regular basis. For this client, timing was crucial.
Overview
Our client is a leading European financial services group of international standing and one of the strongest banks in the world according to Standard & Poor's. Argos is the client's leading CEE translation partner, supporting:
Financial, organizational and contractual procedures
International marketing campaigns
Content preparation for conferences
Supported content types:
Prospectuses
Articles and economic forecasts
Annual reports
Shareholders notices
Funds documentation


Why They Chose Argos?
Our client searched for a reliable and consistent language vendor to support the bank's various reports which are regularly updated. Argos stepped in to take on the responsibility of managing their cyclical financial documentation, which needs to be delivered to their own clients worldwide.
How Argos Helped?
Argos offers our client the ability to integrate their CMS with our TMS for auto-translation of frequently updated content. Financial clients benefit from cooperation with Argos by using our technology and tools to improve ROI on translation spend & quality, while reducing delivery times.
In effect, Argos Multilingual's technological support and know-how, capacity and full service offering were the attributes that the client was looking for in a vendor. These are the Argos competencies that have kept our cooperation with this financial institution growing annually since 2007.
Having completed numerous banking/financial/economic projects, Argos has become one of the leading translation vendors for many financial clients.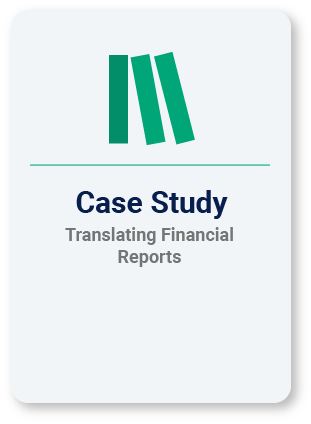 Subscribe to the Argos Newsletter
Stay in the know with all things translation with our ad-free newsletter. Every other week, no spam. We guarantee.